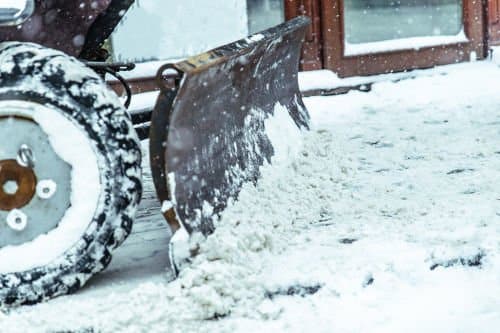 Snow Removal Services in Jackson County, Missouri
We love when an overnight snow turns our area into a winter wonderland—but not when it's at the expense of our business operations or ability to get where we need to go. Wet, heavy snow can be a burden to remove on your own, especially without the time-saving equipment of a professional. In the midst of Missouri's unpredictable winter weather, you can rely on Aaron's Lawn & Landscaping LLC snow removal and ice melt services to keep your property safe and easy to navigate. Whether you live in Independence, Blue Springs, Liberty, or Lee's Summit Aaron's Lawn & Landscaping LLC has you covered and your driveway, or parking lot uncovered this winter season. Call us now at (816) 598-2785 to start preparing today!
Residential & Commercial Snow Removal Services
We're a family-owned and operated snow removal service in Jackson County, Missouri. We've been providing snow plowing and ice melt services to homes, businesses, and schools throughout the region since 2012, and we're proud to say that we have a reputation for quality service that our customers appreciate. We treat every job as if it were our own property, because we know how important it is to have your driveway, or parking lot cleared and accessible in a timely manner. Whether your trying to get to work on time, or provide safe conditions for your employees and customers, snow and ice are hazards that we are more than competent to take care of for you.
When you call us for a quote or schedule an appointment with one of our friendly professionals, we'll come to your home or business and discuss your needs and desires in detail before giving you our proposal. If you decide that you want us to take care of your snow removal needs this season, we will show up on time every morning with our equipment so that we can get straight to work. We'll keep working until all of the snow has been removed from your property and give you regular updates so that there aren't any surprises along the way.
*We offer both residential and commercial snow removal services
Snow Removal Includes:
Commercial & Residential Properties
Parking lots & Driveways
Sidewalks & Walkways
Patios & Porches
A Note For Commercial Business Owners
For commercial business owners, we know that it's especially important that clients and customers are not endangered when approaching or leaving your business. Therefore, a quality snow removal company is a business necessity. The last thing you want is for one of your employees, customers or clients to slip and fall outside your place of business. Ensuring a safe, dry, and comfortable entryway for customers and employees, both, will save you from dealing with the fallout of workers' compensation or customers suing you as the result of injuries sustained from falling while conducting business on your commercial premises. To alleviate future winter concerns and hassles, call Aaron's Lawn & Landscaping LLC to get prepared now.
Do you have trouble with ice build up? Need Ice Melt Services as well?
Aaron's Lawn & Landscaping also offers Jackson County area home and business ice melt services! Our ice melt won't damage concrete, or parking lots and will make the snow removal process quicker for you or your hired professional. Ice can be especially slippery and therefore dangerous, making concrete surfaces like driveways, parking lots, sidewalks, or walkways hazardous to use and for customers or residents. Be sure to contact us if you find the temperatures dipping below freezing and will help ensure the safety of your business, or residential home!