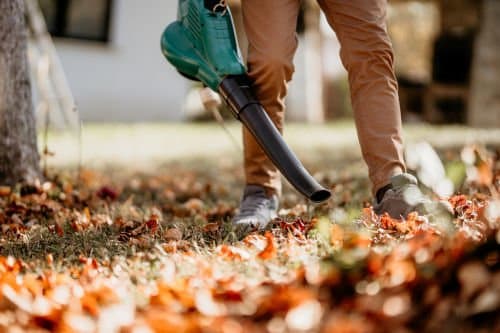 Leaf Removal Services in Greater Jackson County, Missouri
The leaves are falling, and you have a mess on your hands. Don't worry, we've got you covered and your property uncovered!
We know how hard it can be to keep up with all the leaves that are falling off of trees during these colder months in Missouri. We also know that it can be a real pain to try and remove them by yourself without the proper equipment and if you're anything like our other busy, happy customers, then you probably don't have the time to be cleaning up leaves all day long! That's why we aim to provide our clients with the best leaf removal services in the area. We will come out and remove all of your leaves from your property so that it looks beautiful again.
Our service is quick and simple: just call us and let us take care of you!
*We offer both residential and commercial leaf removal services
Residential and Commercial Leaf Removal Service
We provide our services to residential, commercial and industrial customers in the greater Jackson County area, including Independence, Blue Springs, Lee's Summit and Liberty. If you have any questions about our leaf removal and leaf pickup services or would like to schedule an appointment, please do not hesitate to give us a call at (816) 598-2785.
Leaf collection is more important than you might realize, but you don't have to handle leaf pick up yourself
Did you know not removing leaves from your property is actually harmful to your yard? Leaves clog the pores of your lawn, making it difficult for water and nutrients to reach the soil. The result is an unhealthy yard that will not only look bad come Spring, but also be susceptible to disease and insect infestations. If you have leaves on your property, don't wait until Spring to remove them. Call us today at (816) 598-2785.
Benefits of a Leaf Removal Service
A thick layer of dead leaves can harm your lawn's ability to "breathe," absorb nutrients, and receive adequate water, sunlight, and healthy air flow.
Dead and decaying leaves can bring pests, disease, mold, and brown patches.
Compact dead foliage can keep new grass blades from emerging.
Removing leaves as they brown keeps your lawn looking well-kept.
HOAs will often fine residents in their communities who don't maintain their yards. A leaf pick up service can keep you on good terms with your HOA and help you avoid paying expensive fines.
Neighborhoods with well-maintained lawns tend to have higher resale value. When homeowners keep up with yard maintenance, everyone in the neighborhood benefits from increased property values.
Curb appeal is better without a pile of rotting dead leaves in the yard. Leaf piles may be fun to jump in, but they don't add a lot of aesthetic appeal. Our leaves raking service can get rid of those loose leaves for you, but we can let your kids jump in the pile once or twice before we haul the leaves away.
How often should you remove leaves from your property?
The best way to keep your yard healthy and looking great is by removing leaves from your property on a regular basis. By doing this, you'll make sure that leaves don't clog the pores of your lawn, or cause other detrimental health concerns to your yard. We recommend having us come out every two weeks during Fall to remove leaves from your property.
Call Aaron's Lawn & Landscaping for Leaf Removal in Jackson County, MO
Curious about leaf clean up cost? Give us a call, and we can give you a quote on the cost of leaf collection or information about our other lawn services. Spend your weekends enjoying football, hayrides, and haunted houses this autumn season - not raking leaves. Leaf litter can be a hassle to deal with, and you have more enjoyable things to do. Call Aaron's Lawn & Landscaping LLC today for more information about our Jackson County leaf removal services.
Save Time and Treat Your Lawn to Our Leaf Removal Service Today