Lawn Care Independence MO: Get Your Lawn Care Done Right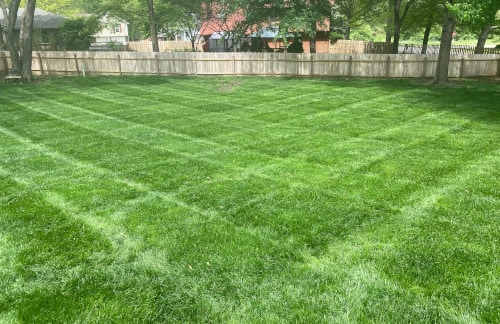 One of the best things about living in the Midwest is the lush, green lawns. However, maintaining a beautiful lawn requires a lot of hard work. If you're looking for someone to help you take care of your lawn, you've come to the right place. Aaron's Lawn and Landscaping LLC has been providing high quality lawn care in Independence MO for over 10 years. Our trained professionals will provide you with the best high-quality lawn care service expertise that you deserve. We offer one-time, as needed and monthly lawn services to meet your needs and budget. We serve all of Independence MO as well as Blue Springs, Lee's Summit and Liberty MO - everywhere within the greater Jackson County area.
A Multiservice Lawn Care Company
At Aaron's Lawn and Landscaping LLC, we offer comprehensive lawn care services that will keep your lawn looking its best all year long. Mowing, trimming, edging, blowing, and leaf removal are all important yard services and are only just some of what our company offers. We can help you with everything from yard maintenance and lawn improvement to retaining walls, landscaping and more. We also offer snow removal services in the winter, so you can rest assured that your property will be safe and accessible all winter long.
If you're looking for a reliable, multiservice, professional lawn care company in Independence MO, then please contact us today. We would be happy to discuss our yard care services with you and answer any questions you may have. In addition to mowing, here are a few other services we offer.
Blowing and Leaf Removal
Leaves and debris can quickly build up on your lawn, making it difficult to mow and causing an unsightly appearance. A professional leaf removal service can quickly clear away leaves and other debris, making your lawn look neat and tidy once again. At the end of any lawn service we make sure that clippings, or other debris from our work are cleaned up and not distracting from your houses curb appeal. We also can help remove leafs from your property in the fall to keep them from damaging your lawn the following year. For leaf, or debris removal, call us today.
Overseeding
Overseeding lawns is an important part of lawn care. It is the process of planting new grass seed over the existing turf. This is beneficial because the new seed will germinate and fill in any thin or bare areas in the lawn. It is also a good way to get a new lawn started if you are not able to plant new sod.
The best time to overseed is in the late summer or early fall. This is when the weather is still warm, but the days are getting shorter and the nights are getting cooler. This allows the new seed to germinate and grow before the cold weather sets in.
You will need to water the lawn regularly after overseeding has taken place to make sure the seed germinates and grows. The best way to do this is to use a sprinkler system. You should water the lawn for at least 20 minutes, twice a day. To receive help with an overseeding service, or other lawn care needs, call us today.
Property Debris/Brush and Storm Cleanup
We offer property brush and storm cleanup services to help you clear away any debris or messes that may have been left behind after a storm. Contact us today to learn more about our services and to schedule a consultation.
Snow Removal and Winter Services
Are you looking for a reliable company to take care of your winter needs? Look no further than Aaron's Lawn and Landscaping LLC. We offer a wide range of services to make your winter as worry-free as possible and meet your snow removal needs, from plowing to shoveling to salting.
We understand that winters in Missouri can be unpredictable, so we are always prepared to handle whatever weather comes our way. We have a team of experienced and qualified professionals who are dedicated to providing the best possible service.
If you are looking for a reliable and affordable winter services provider, contact Aaron's Lawn and Landscaping LLC today. We would be happy to discuss our services with you and answer any questions you may have.
Lawn Care Facts For Independence MO
Lawn care is an important part of home ownership. It is necessary to keep up with the maintenance of your lawn in order to keep it looking healthy and green. There are a few things that you can do on a weekly basis to keep your lawn looking great.
One of the most important things that you can do for your lawn is to make sure that you are watering it correctly. You should water your lawn for about 30 minutes once a week. If you're experiencing hotter than normal temperatures (as temperatures in the Midwest tend to fluctuate), you may need to water your lawn more often.
Another important thing that you can do for your lawn is to have it mowed regularly at a correct height. The frequency with which you need to have your lawn mowed depends on a variety of factors, including the type of grass, the height of the grass, and the weather. However, a good rule of thumb is to mow your lawn at least once a week, schedule an appointment and get our recommendation of services to ensure your lawn satisfaction.
Landscaping Services in Independence MO
Besides lawn care, we also offer landscaping services within Independence MO. Our team of experienced professionals can take care of everything from mowing your lawn to planting new flowers and shrubs, removing dangerous, or unsightly trees from your yard, installing rock gardens, or mulch beds, building retaining walls and more. We can help you design and install a new landscaping idea that will perfectly suit your needs and taste whether it's for asctetics, or to solve a problem that you may be experiencing in your yard.
To learn more about our lawn care and landscaping services in Independence MO, please call us today. We would be happy to answer any of your questions and provide you with a free, no obligation quote. To read more about our landscaping services, view more information on our website here.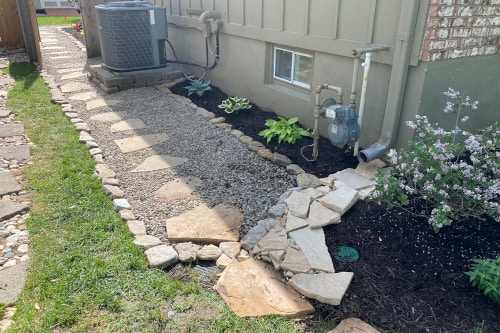 Want To See A Difference In Your Yard?